Period poverty reduces productivity, increases discrimination, and is a threat to women's health and hygiene.

Reportedly, discrimination due to period poverty afflicts over 56% of women in Malawi.
"We know that not all women can afford to buy sanitary pads every month."
Esther Mughogho, EPM Gender and Welfare Manager
When women are unable to afford suitable sanitary products, they use blankets or rags for their periods, directly impacting their ability to attend work. Levels of productivity fall due to the need to repeatedly check for staining of clothing, and ostracization by male co-workers. Poor menstrual health and hygiene can also lead to many women suffering from yeast infections and rashes.
With a third of the workforce at Eastern Produce Malawi being female, responding to the issues of period poverty has been placed high on the agenda. Commended by Child and Women Rights Activist, Beatrice Mateyu, this programme has already provided menstrual cups to 1,742 women.
Women taking part in the programme were surveyed to understand the current level of period poverty. Out of 1,936 women, 1,549 had never used a sanitary pad, 23% of the women used disposable sanitary pads and only 6% of the women used reusable cloth sanitary pads.

Disposable sanitary pads are 90% plastic and on average take c.400 years to biodegrade.
Menstrual cups are designed to last for 10 years, can be worn for 12 hours, need no specialist cleaning materials, are environmentally friendly, discreet, safe, hygienic and can restore a woman's dignity during her period.
"Women are trained on menstrual hygiene and how to use the menstrual cups. The initiative is aimed at promoting the dignity of women when menstruating." 
Esther Mughogho, EPM Gender and Welfare Manager
Since the distribution of menstrual cups EPM have recorded a 100% improvement in menstrual health amongst cup users. Women reported that they found it easier to go to work and they required less toilet breaks when using a cup.
Factory managers reported that female workers were more present at work throughout the entire month.
"These re-usable menstrual cups reduce the cost of buying disposable sanitary pads and this increases productivity of the female employees. This support is contributing to gender equality and female empowerment in the workplace."
Beatrice Mateyu, Women and Girls Rights Activist & Executive Director, Coalition for the Empowerment of Women and Girls (CEWAG)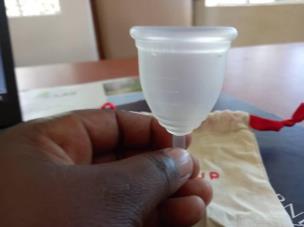 Providing a single, low-cost menstrual cup not only improves the menstrual health, but increases both attendance and productivity. Addressing the unmet needs of core employees is a social responsibility that cannot be ignored. Periods are not a choice for women but making proper provision for dealing with menstruation is entirely within our control.